Walmart may not be on Amazon's level yet, but it's slowly but surely making a name for itself in the ecommerce space. Walmart just surpassed eBay to hold the second-largest share of U.S. retail ecommerce sales, eMarketer reported.
While it's no surprise that Amazon held onto its crown in the No. 1 slot, the 2020 report demonstrates some emerging trends about how Walmart's investment in ecommerce is paying off in the United States.
Top 10 U.S. companies by ecommerce sales share, 2020
According to eMarketer's Feb. 2020 report, the rankings for top 10 U.S. companies by retail ecommerce sales share are as follows: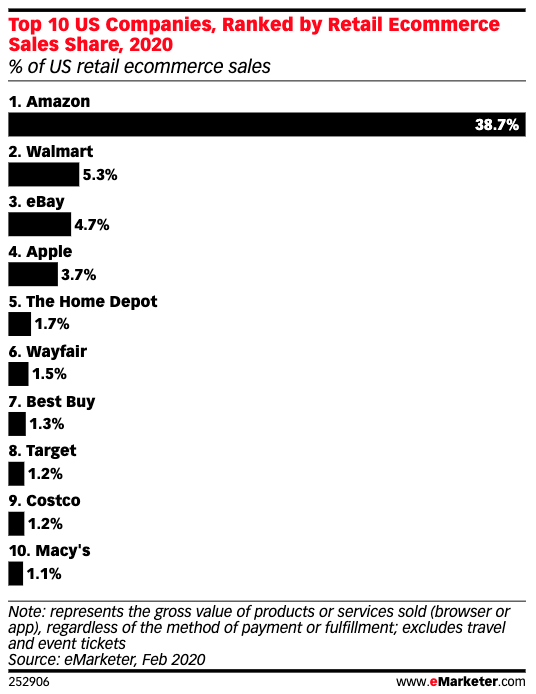 1. Amazon, 38.7%

2. Walmart, 5.3%

3. eBay, 4.7%

4. Apple, 3.7%

5. The Home Depot, 1.7%

6. Wayfair, 1.5%

7. Best Buy, 1.3%

8. Target, 1.2%

9. Costco, 1.2%

10. Macy's 1.1%
Screenshot from eMarketer.
Walmart overtakes eBay for the first time
The last two years that eMarketer has reported this data, eBay held its second-place slot below Amazon. However, eBay dropped a whole 1.4% from 2019 to 2020, giving Walmart the edge for the first time.
In 2019, eBay held 6.1% of U.S. ecommerce sales share, and Walmart was behind them with 4.6% of sales share. In 2018, eBay held 6.6% of the U.S. sales share while Walmart came in fourth behind both eBay and Apple, with just 3.7% of sales share.
While Walmart has experienced nearly 50% sales share growth since 2018, eBay's share has dipped almost equally as sharply.
Over the last few years, Walmart has worked tirelessly to gain a larger share of the ecommerce market, from their acquisition of Jet.com in 2016 to their more recent incorporation of Jet.com employees to their Walmart operations.
George Hatch, Pattern's Director of Marketplaces, explains that Walmart's ecommerce growth (41% in 2019 Q3) is a direct result of these investments.
"We see Walmart making massive strategic investments into their long-term business goals, which is driving an improved customer experience and, ultimately, a more competitive ecommerce offering, resulting in increased sales and share," Hatch said.
Of course, these investments come at a massive cost. Morgan Stanley analyst Simeon Gutman predicts Walmart will lose $2.1B on an operating profit basis in 2020, up from $1.9B in estimated losses from 2019. However, other analysts predict Walmart's losses will shrink in 2020 now that the retailer has taken on most of the upfront costs.
While it's clear that Walmart is on a growth trajectory (absorbing the costs as they come), the question remains—will the retail giant ever match Amazon's resident, heavy-weight champion status? eMarketer's report held interesting insights for that as well.
Amazon loses over 10% marketshare from 2018 to 2020
Perhaps even more telling than Walmart's growth were Amazon's losses. Amazon stayed on top this year with the largest share of U.S. ecommerce sales by a huge margin. However, the 2020 rankings show quite the shakeup compared to the last two years that eMarketer reported this data.
In 2019, they reported that Amazon held 47% of the U.S.'s retail ecommerce sales share—8.3% more than Amazon's current 38.7%.
The year before that, in 2018, eMarketer reported that Amazon held 49.1% of U.S. retail ecommerce sales. Amazon only dropped two percentage points from 2019 to 2018, making the 2020 drop of 8.3% the biggest drop in marketshare in a single year among any of the other top marketplaces.
Since 2018, Amazon dropped 10.4% overall. Only time will tell if this downward trend for Amazon will continue while Walmart makes up the difference. As of today, Amazon is still top-dog in the ecommerce game, but Walmart's vast infrastructure and ecommerce investments may end up giving it a run for its money in the years to come.
Want to expand your ecommerce business to growing marketplaces like Walmart? Reach out to Pattern by filling out the form below.